Red Carnelian mala necklace with a mantra bead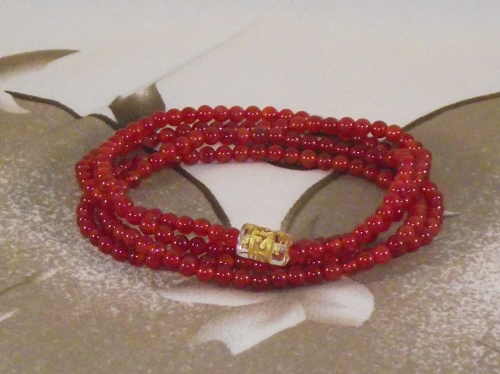 Red Carnelian Mala with a prayer bead decorated with Buddhist mantras. Carnelian crystal gemstones form naturally and range from a light whitish orange colour, to a very dark brown, almost black colour.

Carnelian is a semi-precious crystal quartz gemstone, and has been seen as an important protection symbol throughout history. Worn by Roman soldiers to protect them during battle, Carnelian is believed to represent endurance and courage. Red Carnelian is also believed to attract wealth and prosperity.

Gemstone: Red Carnelian

Colour: Darker red colours

Total Mala length: Approximately 84cm

Carnelian bead diameter: 4mm

Mantra bead size: Length 12mm x Diameter 8mm

Approximate bead quantity: 205 Red Carnelian beads