Malachite mala necklace with a mantra bead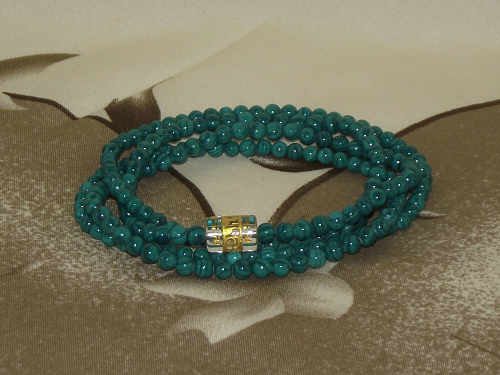 Malachite wrist Mala with a large prayer bead decorated with auspicious Buddhist mantras. Malachite is a vibrant, green coloured, semi-precious gemstone with irregular black banding.

Malachite is a powerful protection stone, and can enhance positive aspects. Believed to have healing properties, Malachite is said to provide pain relief from light injuries, help ease stiff joint pain, relieve headaches, and help relieve mild labour, and period pain.
Gemstone: Malachite

Colour: Green with natural black banding

Total length: Approximately 84cm

Malachite bead diameter: 4mm

Mantra bead size: Length 12mm x Diameter 8mm

Bead quantity: Approximately 200 Malachite beads