108 bead Rose Quartz mala with a mantra bead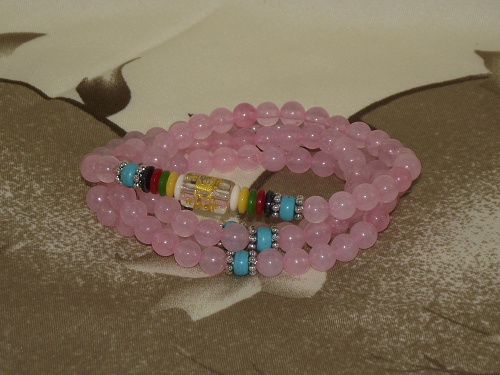 108 bead mala with Rose Quartz beads, Turquoise spacers, and a mantra bead. There are 108 Rose Quartz beads, and 5 Turquoise beads which act as counting spacers. The decorative silver end pieces separate the different gemstones.

Rose Quartz is a pink gemstone associated with love and forgiveness. Said to have healing properties, it is believed that it strengthens the heart, and assists with breathing problems.
Turquoise is another protective crystal, and said to create inner-calm, and a positive self confident outlook on life.
Gemstones: Rose Quartz and Turquoise

Colours: Pink and Turquoise

Total length: Approximately 74cm

Bead diameter: 6mm Rose Quartz, and 6mm Turquoise

Mantra bead size: Length 12mm x Diameter 8mm

Bead quantity: 108 Rose Quartz, and 5 Turquoise