108 bead Malachite mala with a mantra bead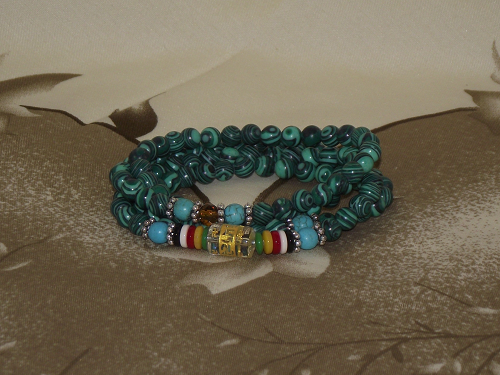 108 bead wrist mala made with Malachite gemstones, Turquoise spacers, a faceted Topaz crystal, and a mantra bead. There are 108 Malachite beads, a 6mm faceted Topaz, and 6 Turquoise stones which act as spacers when counting the beads.
The mantra, or prayer bead is decorated with auspicious Buddhist symbols, and a mantra in gold colour foil.

Malachite is a protection crystal which can enhance positive aspects and emotions. Believed to have healing properties, this crystal quartz gemstone is said to relieve light pain such as headaches, stiff joints, and period pain.

Turquoise is another protective crystal, and is said to create inner-calm, and a positive self confident outlook on life.
Gemstones: Malachite, Topaz, and Turquoise

Colour: Green with black banding, and Turquoise

Total Mala length: Approximately 72cm

Bead diameter: 6mm Malachite, and 6mm Turquoise

Mantra bead size: Length 12mm x Diameter 8mm

Bead quantity: 108 Malachite, 1 Topaz, and 6 Turquoise