108 bead mala with Red Carnelian gemstones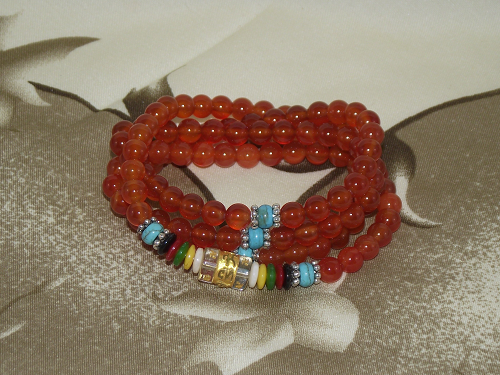 RRP: £23.95
Code: RC06/MM
108 bead mala with Red Carnelian gemstones, Turquoise spacers, and a mantra bead. There are 108 Red Carnelian crystals with 5 Turquoise stones which act as spacers when counting the beads. The mantra, or prayer bead is decorated with auspicious Buddhist symbols, and a mantra in gold colour foil.

Carnelian is a protection stone, and a symbol of courage and endurance. Red Carnelian can enhance wealth and prosperity prospects.

Turquoise is another protective crystal, and is said to create inner-calm, and a positive self confident outlook on life.

Gemstones: Red Carnelian and Turquoise

Colours: Red shades and Turquoise

Total Mala length: Approximately 74cm

Bead diameter: 6mm Carnelian, and 6mm Turquoise

Mantra bead size: Length 12mm x Diameter 8mm

Bead quantity: 108 Carnelian, and 5 Turquoise