108 bead mala with multi coloured gemstones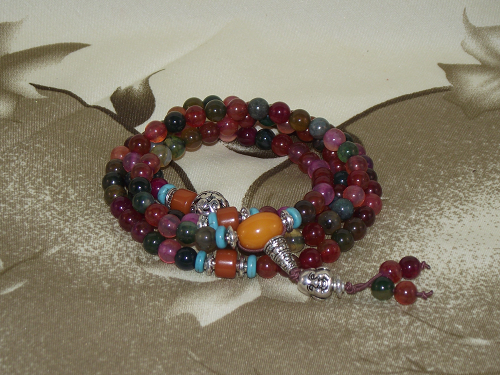 108 bead gemstone mala with multi-coloured Agate gemstones, Turquoise spacers, a silver colour floral bead, and Buddha head. There are 108 Agate gemstones, and 8 Turquoise beads which act as counting spacers.
The silver floral ball is approximately 12mm in diameter, and the Buddha head hanging ornament is 6cm in length including the beads.
Agate quartz is said to enhance a persons wisdom, creativity, courage, strength, confidence, and enthusiasm.

Turquoise is another protective crystal, and is said to create inner-calm, and a positive self confident outlook on life.
Gemstones: Agate and Turquoise

Colour: Multi-coloured

Total Mala length: Approximately 74cm

Bead diameter: 6mm Agate, and 6mm Turquoise

Silver spacers, floral ball, and Buddha head

Bead quantity: 108 Agate and 8 Turquoise