108 bead Garnet mala with Red Carnelian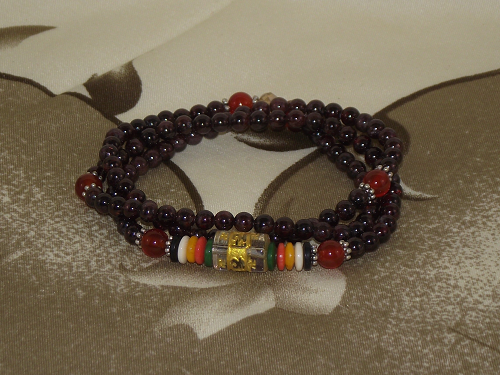 108 bead mala with Garnet and Red Carnelian gemstones, and a Buddhist mantra bead. The wrist mala has silver end pieces, and a single sparkling 6mm faceted crystal.

Garnet is a beautiful gemstone believed to symbolise courage. It is also said to dispel negativity, and provide strength during difficult times.
Carnelian is a semi-precious gemstone, and a protection symbol. It is said to represent endurance and courage, and to attract prosperity.
Gemstones: Garnet and Red Carnelian

Colour: Red and dark crimson

Total length: Approximately 56cm

Bead diameter: 4mm Garnet, and 6mm Red Carnelian

Mantra bead size: Length 12mm x Diameter 8mm

Bead quantity: 108 Garnet, 1 faceted crystal, and 6 Red Carnelian