Chinese wall scroll with carp and lotus flowers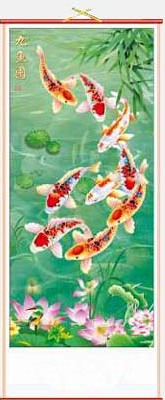 Chinese wall scroll of a colourful oriental pond scene with lotus flowers, bamboo branches, a kingfisher bird and eight Chinese carp. This picture symbolises good luck and wealth abundance.
This attractive picture is printed onto a paper Chinese wall scroll with bamboo rollers. The scroll comes with an attractive picture presentation box.
Approximate scroll size: 82cm x 32cm