Chinese hand held fan with a dragon and tiger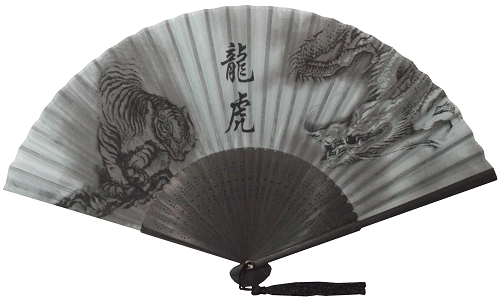 Chinese silk fans with ornate black colour bamboo fretwork. Made using a soft silk fabric the fans are beautifully decorated with Chinese Tiger and Dragon figures. In Chinese mythology the Tiger rules over all the animals on earth, and the Dragon rules over all the animals in the heavens above.

The black bamboo fretwork is decorated with oriental patterns, and has a black colour Chinese tassel.
Fabric: Chinese silk

Fabric colour: Black / Silver grey

Fretwork: Decorative black bamboo

Black knotted tassel

Pattern: Chinese dragon and tiger

Radius when fully open: Approximately 36cm (14 inches)