Chinese calligraphy scroll with "Patience" symbols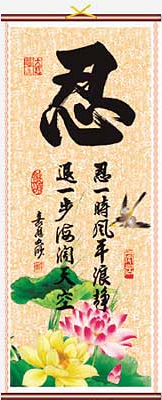 Chinese calligraphy wall scroll decorated with colourful oriental birds, flowers, and Chinese characters symbolising "patience", and the virtues of being patient.
This attractive picture is printed onto a paper Chinese wall scroll with bamboo rollers. The scroll comes with an attractive picture presentation box.
Approximate scroll size: 82cm x 32cm